Popular Brush Cutters

King Kutter Brand Rotary Cutters
American made and headquartered in Winfield Alabama, King Kutter is a clear front runner when it is time to purchase. They are the industry leader in innovation and solid designs.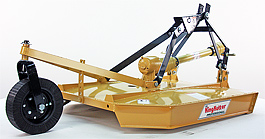 Fred Cain AgriCutter Brush Cutter
Built to last and to provide a great cut, the Agricutter from Fred Cain is made from a solid sheet top deck that is folded for maximum strength.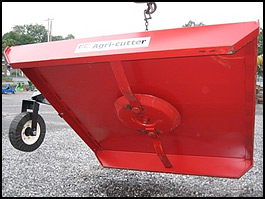 Learn More about these tractor rotary cutters
Brush Hog Mowers - What You Need to Know

Can anybody say FEATURES?
Never before has a set of features been compiled together to completely revolutionize the Tractor Brush Cutter. The King Kutter Flex Hitch Rotary Cutter is patent pending and allows for the most flex of any cutter in the industry. The double wishbone side link flex hitch eliminates the need for skid plates and keeps your mower following the ground instead of your tractor.

This Brush Hog has a new dome design that sheds water and debris to keep your Mower from rusting to an early retirement. This process also provides for a stronger overall design as well.

Everyone wants to stay on their tractor while out bush-hogging, and in order to do this, we recommend that your brush hog mower come equipped with a Slip Clutch. While these do require a little more maintenance, not having to find and change a shear bolt protection system in the field makes it worth the extra investment.
What Width is right for my Tractor?

Well, that depends!
If you don't know the answer to this question, have no fear. The experienced staff at Everything Attachments have been in business for a long time, and have the knowledge to help you size your brush mower for your tractor and your intended purpose. Call them, Live Chat, Email, and get a quick answer to this important question.

Need a Brush Hog Mower for your Skid Steer?
Made to mount right onto your Universal Skid Steer Mount, the Bradco Brush Cutter is built to last, and with the ability to reverse the blade direction, you can use this cutter as a side discharge mower, or reverse the blades in the other direction to brush hog up to 4 inch trees.